Patriots and Colts
With little going on in sports having to do with Detroit, I have decided to write a post about the
Patriots
and
Colts
playoff game that was on this Sunday.
For the second straight year, the Patriots beat the Colts in Foxboro during the playoffs. The Patriots were clearly the better team as they walked away with a
20-3 victory
. With the win, the Patriots move unto the
AFC Championship
game to play the Steelers next week.
All season everybody raved about how good
Peyton Manning
and the Colts' offense was. Manning threw a NFL record 49 touchdown passes during the regular season(6 against Detroit) but he could not get the Colts into the endzone once. Manning is a great quarterback but again he could not win the big game on the road. The Patriots shut him down along with the rest of the Colts' "unstoppable" offense. (Here is a picture of Manning walking off the field after the loss).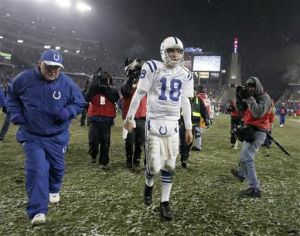 The Patriots are the best team in football and they proved it again on Sunday. People thought that the Colts would finally be able to beat the Patriots but it was not going to happen against the defending champs. I love the Patriots because they play like a team. They do not have a lot of superstars but they get the job done when it counts, plain and simple. They deserve to win another championship. If they win, it will be their third championship in 4 years.
GO PATRIOTS!